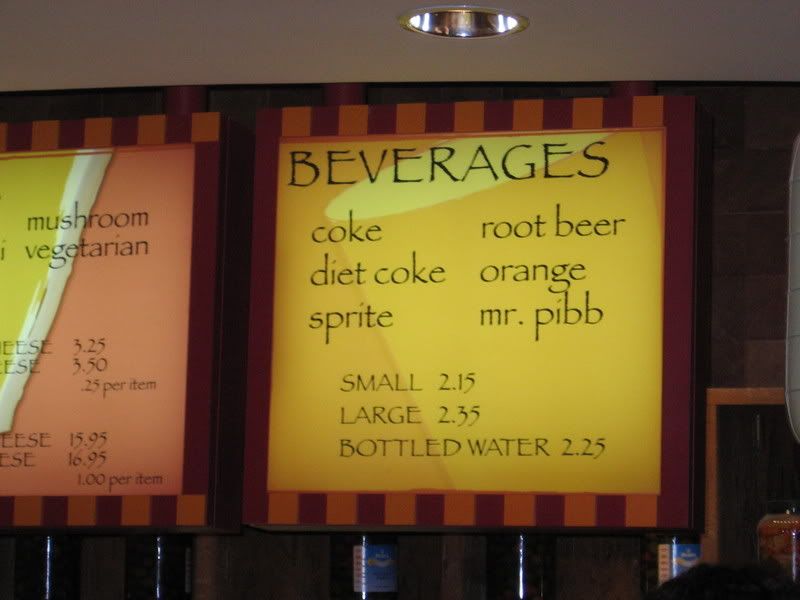 When I was 16, I went to Disney World with my family. It was the first big vacation that required air travel, and the first time out of New England.

One of the things I remember vividly is the novelty of this new soda, Mr. Pibb, that my brother and father would get out of the soda machine in the hotel. All it was was the southern version of Dr. Pepper, so I wasn't interested.
(I'm not into drinking things that taste like ass. And, no, I have not personally tasted ass... but it's what I would imagine it to be like). But seeing that they could not get this stuff at home, they drank it daily.

Anyhow, several years after that vacation, I happened to bring up this Mr. Pibb. No one believed me that such a drink existed! Where are my family's memory banks stored? Obviously not in their brains.... but anyhow... I digress.

I had called Coca-Cola, Inc and asked them if this drink existed, or was I out of my mind? Yes, it sure did exist, I was told, but only in the southern regions of the country. I was unable to get them to send me a 6 pack, which I wanted as solid proof, so my family was just going to have to rely on my word. And I think they did.

But here, my pretties, lies more evidence of Mr. Pibb. On my recent vacation to Florida, I spotted this sign advertising Mr. Pibb at the Seminole Hard Rock & Casino food court. It may have taken me 14 years to get this evidence... but I am glad I finally have it!




And now I move on to the vacation:


As some may remember a few posts back, I mentioned that my DH and I were taking an anniversary trip to Florida to watch the UFC fight between Tito Ortiz and Ken Shamrock. Not many people on a whole know of this sport, but I suspect that it will become quite mainstream in the coming years. For those who have no clue what this sport is, check out this site.

We stayed at the Seminole Hard Rock Hotel and Casino in Hollywood, Florida. When we got there, the receptionist stated our reserved room was not available. Why, then, do we bother with reservations as Seinfeld had pointed out? But they did have another room available, but it's on the second floor. I didn't bother to ask why that might be a problem, so I said we'd take it. But here is why the second floor was not desirable:

Yup, that is what we looked at for three days if we wanted the Florida sun to shine into our room. Oh, well... we didn't spend too much time in there anyhow.
I thought I'd also share some of the fight pics. Although the pictures don't show it, we had great seats. The Hard Rock Live Arena is just the right size for an event... and even though our section was not the most expensive, our view was unbelievable.
This is the famous Octagon, where all the bloody action takes place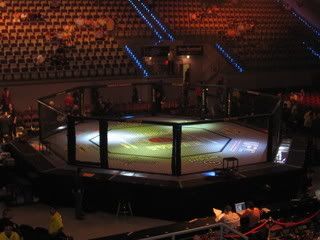 Here is one of my favorite fighters, Tito

"The Huntington Beach Bad Boy"

Ortiz entering the ring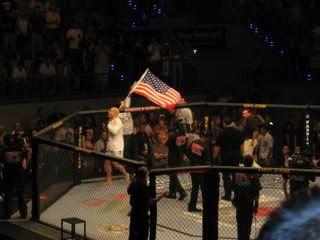 And this is just before Tito

(in the white shorts)

took Ken Shamrock down to the ground and kicked the crap out of him for the knock out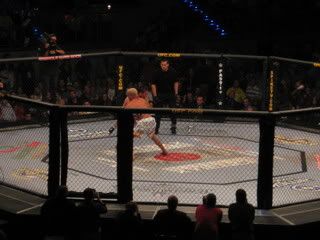 Oh, right, this is a knitting blog!
Sorry for the digressions...so here is some knitting news to satisfy the yarn hungry:
I will post the
Roomy Baby Cardigan
pattern in the coming month. You can get the original (not the one I tweaked) through a link posted on the original blog post if you can't wait for my version. I also hope to develop some great women's sweaters... with focus on the "big girl". Unfortunately, I have so much on my plate that they may be slow in coming.
I also began to distribute my blog cards on my travels. I hope some knitters down along the east coast come visit!
I am almost finished the second girls cardigan for my friend's youngest daughter. Knitting on planes really passes the time, but I highly suggest that you buy two seats to do so comfortably. I was squished between the DH, who is a big guy, and another
really
big guy who talked to me the whole ride. But somehow I managed, and the time just flew by!
(No pun intended, he he)