I am blaming my big fat head on this one. I had estimated that I had enough yarn left over from the Shorty Scarf to make a matching hat. I guess I was estimating based on an average woman's head size, which is roughly 20 inches. I measured my uber grande intellectual noggin at 23 inches (no wonder I'm so smart!) and cast on the stitches needed for the gauge. It was coming along nicely, and what a bonus! It even fit!

But, alas, I do not have enough yarn to finish it. And I'm not so sure I want to order more yarn. Maybe I will just redo this in some yarn I am positive I have enough of.


Perhaps I could market this hat to the Hare Krishna's. I'm sure they have a knitting magazine made especially for them, right?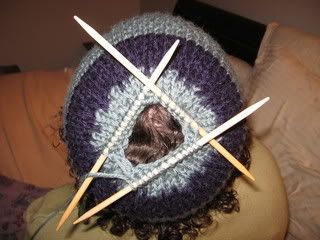 That size hole at the top would be perfect for them. No more hat head!
I've also learned I have a cowlick at the crown of my head. Jeez...when was someone going to inform me of this??