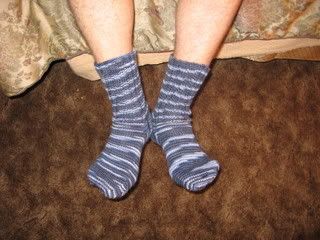 I actually have several things I should post but will have to come back later this week to post the rest of it. Here are the DH's duck feet with my first complete pair of socks! He's actually been wearing them as slipper socks around the house and says they are warm and wicking. The wicking was a big deal, as he thought hand made socks would make his feet sweat.

My Secret Pal has proved she is a daring participant of SP9. She must live locally because she hand delivered my gifts to the front door. I didn't see her, but saw her car roll away. I love what she got me, and I will post pictures later this week.


The kitties are all done with school. I'm not, but they said they've had enough and prefer to spend their day relaxing in place of studying. I can't blame them. I look forward to having several weeks of laying around as well.