Finally... some progress around here! I have not been posting as frequently as I've been tied up with school work and the schizo knit-a-thon. But it has paid off...for now. My work is never done, but I feel like a lot is behind me.

I have knitted the quickest piece ever in my history of knitting: the cowl neck sweater. Take a look: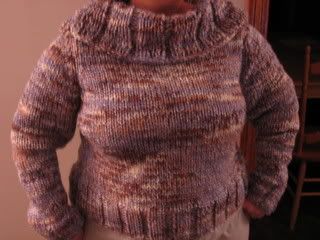 Pretty good, eh? But I have a feeling you are wondering why is it called the cowl neck sweater when it isn't a cowl neck? Good question. I ran out of yarn. I had to cut the neck short. But I compensated well, as it looks great like it is.
WARNING TO ALL FIBER SNOBS: this is made of...
acrylic! (gasp!)
It's Bernat Softee Chunky. I think each skein cost around $2.75, and I used 11 skeins... so this cost me approximately $30.25. You certainly can't get a sweater like this at the mall for that price.
One thing I must point out is that I broke all the rules of
Big Girl Knits
. Big Girls are not supposed to wear chunky yarn knits. I am also a Boob Big Girl... and we aren't supposed to cover those babies up in anyway... oh, well, I broke the rules for a great looking sweater.
Off on the other front... school... just 3 weeks to go to the end of the term. Yay! So far looks like I will maintain my brainiac status with a 4.0. Yes, that's right, people... a
4.0.
In grad school.
(Sorry, had to put that shameless plug in for myself).
But I can't take all the credit with these grades. I get help from the kitties.
Shady knows her phenanthrene opiod narcotics well.



And Mr. Kitty has learned everything there is to know about diuretics.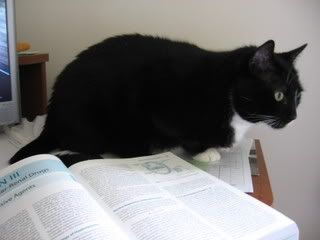 After a hard day of studying, Shady takes the time to relax:


And Mr. Kitty becomes drunk with knowledge:
I, on the other hand, suffer headaches... which I couldn't seem to capture on picture.