Today is my one year wedding anniversary. And can you believe that I forgot to defrost our cake top? I had even been making mental notes to myself for weeks to remember to take it out of the freezer. Oh, well. We'll have the cake tomorrow I guess.

I married a man that I didn't believe exsisted. Trust me, he has his faults, but I could not have found a more caring, loving, kind, and funny (yes, BT, I am calling you funny! Imagine that!). It took me so long to find him, and what's ironic is that I've been in his "circle" for many years. We knew of each other's exsistance for 6 years or so before we went on our first date.

Anyhow, we couldn't have asked for a better day on our wedding. The weather, which can be a gamble in New England, was absolutely gorgeous. The details turned out perfectly, and I think we threw a wedding people actually enjoyed being at. We still receive compliments this far out, so I guess we did a good job!

Our ceremony was very personal. We wrote our own vows and kept things short and sweet. I forgot the part of the vows that included the kiss. I began to walk off the pulpit and was pulled back for the grande finale.


The guest list was small. Here we are gathered outside on the church steps for a group photo after the ceremony: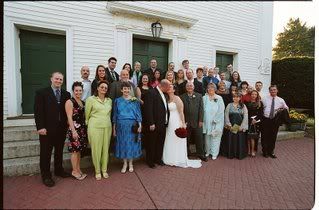 One of the things that I was very proud of was the flowers. I decided that I would do all of the center pieces and personal flowers myself. So I ordered over 1000 stems of roses, snapdragons, calla lilies, and other fall flowers from a wholesaler. They arrived two days before the wedding, and the day before they were arranged by the help of my parents. (They had no confidence in themselves, but they did great!) No one (other than a few I told) knew that the flowers were done by amateurs.
Here is a sample of the centerpieces: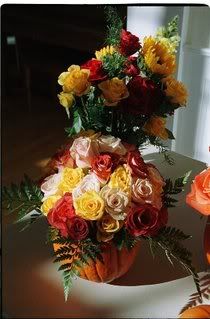 Anyhow, the past year has flown by. It's made me think of how you just never know where you will end up in any given amount of time. If you had asked me 5 years ago where I would be today, it certainly would not have been this. I never would have said I'd be married, living in New Hampshire (of all places!), own a dog (and a German Shepard at that!), going to graduate school, and obsessed with knitting. But I wouldn't trade it for anything.