Poor Miss B... of all the animal children, she is the most exploited on this blog. There's her foolish picture on the sidebar... and now word is out that she will eat cat food. Actually, she loves cat food. It's one of the things she goes for (besides the cats) when she breaks into Kitty Land. I brought the cat food bowls downstairs to be washed, but stopped to talk with the DH on my way to the kitchen. Miss B decided that she would help clean them herself, licking every bit of dried up canned food she could get. (Please note her stylish Vera Bradley collar)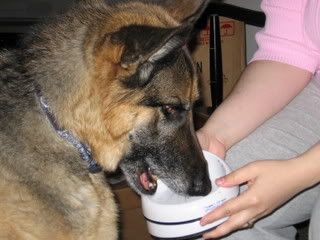 Here she was trying to get the cat food bowls out of my hands.




Onto the Knitting Front
I have finished the second cardigan for my friends' youngest daughter. Of the two I made for these girls, this one is my favorite.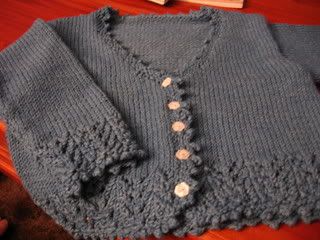 This is also a Miss Bea design by Louisa Harding. I think her designs are very cute for kids. And they are quite easy and quick. This cardigan is made from Rowan Denim in the color Tennessee. This yarn is 100% cotton, and feels like denim jeans. I didn't like knitting with it as the ply's were very loose and frequently got caught with the points of the needles. But it turned out beautiful, and I would use this yarn again just based on its outcome alone.